How to Find a Quality Used Car
Posted Sunday, Sep 10, 2023
Buying a Quality Used Car: Auto Expo Houston is the Right Place for Your Next Vehicle
A quality used car is a pre-owned vehicle that meets certain criteria of condition, reliability, and value, making it a desirable choice for buyers seeking a dependable and cost-effective means of transportation. Auto Expo Houston is well-known for selling Used cars. Such as, BMW, Mercedes-Benz, Toyota, Honda, Lexus, Subaru, Dodge, Ford, Chevrolet, Hyundai, Jeep etc. Buying a quality used car can offer several advantages over purchasing a new vehicle. They are- 
This is high time for you to buy a budget friendly quality second hand car. But you must research before buying it. Here are some tips for you to identify a quality second hand car provided below- 
01. Reliability: Reliability, a cornerstone of assessing the quality of a used car, signifies that the vehicle ought to demonstrate unwavering consistency in executing its designated functions, steadfastly avoiding frequent breakdowns or necessitating extensive repairs. Essentially, it must epitomize dependability, demonstrating the capacity to function seamlessly over an extended duration without succumbing to unforeseen malfunctions. This enduring reliability ensures that the car remains a dependable mode of transportation and a trustworthy investment.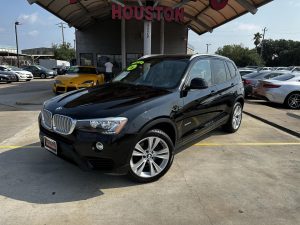 2016 BMW X3 SDRIVE28I SPORT UTILITY 4D
02. Maintenance Records: A branded used car ought to come accompanied by a meticulously documented history of regular maintenance and servicing. This comprehensive record functions as concrete evidence that the vehicle has been subjected to consistent and diligent care, strongly indicating that it is likely to be in a commendable condition. It's akin to a chronicle of devotion to the car's well-being, an assurance that the necessary upkeep and attention have been diligently administered over time. This history isn't just a set of records; it's a testament to the car's enduring vitality, a reassuring signpost for prospective buyers that underscores the car's pedigree of proper care and maintenance. Auto Expo Houston provides CARFAX for all of their inventories.  In essence, a well-documented service history not only safeguards your investment but also enhances your confidence in the vehicle's ongoing performance and reliability.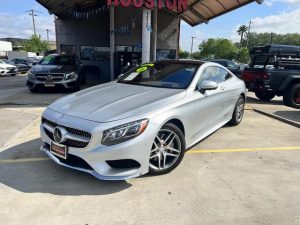 2015 MERCEDES-BENZ S-CLASS S 550 4MATIC COUPE 2D
03. Clean Title:  A hallmark of a quality used car is the possession of a clear title, serving as a definitive testament that the vehicle has not undergone the distressing or compromising experiences of being salvaged, rebuilt, or entangled in serious accidents that could jeopardies its safety or erode its resale value. This unblemished title isn't just a legal formality; it's a declaration of the car's unaltered and unscathed past, affirming its integrity and preserving its standing in the market. In essence, a clear title isn't merely a piece of paper; it's a safeguard for your investment, a guarantee of the car's untainted history, and a promise of its continued reliability and value retention.
04. Vehicle History Report: A clean vehicle history report, accessible through the VIN, reveals crucial insights into a car's past, such as accidents, title changes, and recalls. A car with no significant accident history is often seen as higher quality due to hidden structural damage and safety concerns linked to accidents. Auto Expo Houston  will ensure your piece of mind by providing you the Carfax.  In essence, this report is more than data; it safeguards your investment and boosts confidence in a car's structural integrity and overall quality. Thorough diligence in assessing a used car's history is essential, highlighting that a wise choice factors in safety and durability, not just aesthetics.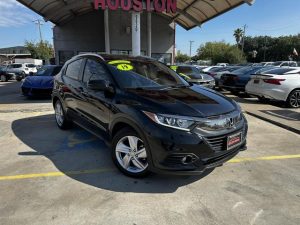 2019 HONDA HR-V EX-L SPORT UTILITY 4D
05. Cosmetic Condition: Minor cosmetic flaws, such as scratches and dents, typically don't impact a car's mechanical performance. However, the external and internal upkeep of a vehicle greatly influences how it is perceived in terms of overall quality. A well-maintained appearance reflects an owner's care and attention to detail, elevating the car's status from mere transportation to a source of pride. Additionally, a car's cosmetic condition can significantly affect its resale value and appeal in the used car dealer market. So, while these issues may not affect mechanics, they play a crucial role in the car's overall attractiveness, perceived worth, and long-term satisfaction for its owner.
06. Factory Warranty or Certified Extended warranties: Certain used cars offer added value with existing manufacturer warranties or certified extended warranties, indicating thorough inspections and compliance with quality standards. Manufacturer warranties provide post-purchase security against unexpected repairs. Extended warranties undergo stringent evaluations to meet manufacturer or dealer-set quality benchmarks, ensuring they're top-tier used vehicles. These options enhance the appeal of buying second-hand cars, extending buyer confidence beyond as-is vehicles.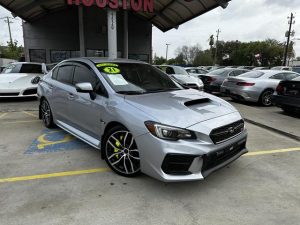 07. Customer Service: When buying a car, brand and dealership customer service can greatly impact your post-purchase experience. Reliable assistance and support matter, especially in case of issues. The reputation of the manufacturer or dealer for customer service should be a key consideration in your decision-making process. A brand or car dealer with a strong customer service track record can enhance your overall satisfaction and ownership experience. So, don't just focus on the vehicle itself; factor in the quality of service they provide. This approach ensures a smoother and more satisfying ownership journey.
08. Fuel Efficiency: To determine long-term operating costs, evaluate a car's fuel economy and align your engine choice (gas, hybrid, electric, or diesel) with your driving habits. Gas engines are convenient for short commutes and urban driving, while hybrids combine fuel efficiency with stop-and-go city use. Electric cars excel for urban trips with charging access, offering energy efficiency and eco-friendliness. Diesel engines are ideal for highway commuters seeking excellent mileage. Tailoring your choice to your driving patterns will save money and reduce environmental impact over time.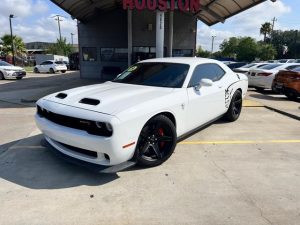 2019 DODGE CHALLENGER SRT HELLCAT REDEYE WIDEBODY COUPE 2D
09. Safety: Priorities car safety by examining its safety features, crash test ratings, and available advanced driver assistance systems (ADAS) such as lane-keeping assist and adaptive cruise control. Safety features like airbags, anti-lock brakes, and stability control are fundamental. Look for high crash test ratings from reputable organizations like the IIHS and NHTSA to gauge a car's safety performance. Advanced driver assistance systems like lane-keeping assist help with road safety, while adaptive cruise control enhances long-distance driving comfort. A thorough assessment of these factors ensures you choose a car that priorities your safety and offers the latest in driving technology.. 
10. Ownership Costs: When considering a car, calculate ongoing expenses like insurance premiums, maintenance costs, and depreciation for the particular make and model in question. Insurance rates vary widely depending on factors like the car's age, safety features, and your driving history. Maintenance expenses encompass routine services, repairs, and replacement parts, so researching these costs is prudent. Depreciation, or how the car's value decreases over time, can significantly impact its long-term cost of ownership. Accounting for these factors provides a comprehensive picture of the financial commitment associated with your chosen vehicle, helping you make an informed decision.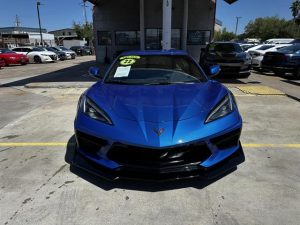 2022 CHEVROLET CORVETTE STINGRAY COUPE 2D
11. Paperwork: When purchasing a pre-owned car, thorough attention to essential paperwork is imperative. This encompasses tasks such as transferring the vehicle's title, providing a bill of sale, and fulfilling any mandatory emissions or safety inspections. Accurate completion of these documents is critical to ensuring a legally sound and trouble-free transaction. Skipping or mishandling paperwork can lead to complications and legal issues down the road, so meticulous attention to detail is essential for a smooth and legitimate car purchase.
12. Test drive: Taking a car for a test drive is a crucial step when contemplating a purchase. This process enables you to evaluate key aspects like handling, comfort, visibility, and performance across different driving conditions. It offers firsthand experience and invaluable insights, empowering you to make an informed and confident decision about the vehicle's suitability for your needs and preferences. Skipping this step can lead to unforeseen issues and dissatisfaction post-purchase, making a test drive an essential part of the car-buying process.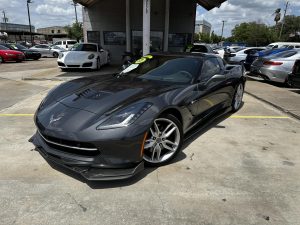 2017 CHEVROLET CORVETTE STINGRAY Z51 COUPE 2D
13. Insurance: Before completing a car purchase, it's essential to request insurance quotes tailored to the specific make and model of the vehicle. This ensures you can budget for insurance costs that align with your financial comfort zone. Disregarding this step can lead to unexpected and potentially burdensome insurance expenses post-purchase. By considering insurance early in the buying process, you can make an informed decision and avoid unpleasant financial surprises associated with your new car.
14. Price: In the used car market, pricing depends on factors such as make, model, age, mileage, condition, and location. Buyers must engage in price comparisons and negotiations to secure a fair deal. The final price should reflect the vehicle's worth based on these considerations. When you purchase a vehicle from Auto Expo Houston you don't have to worry about shopping for the competitions. We can assure you of the top quality vehicles at great prices. We do all the shopping for you to make sure all our vehicle has the fair market prices. 
The United State used car market is thriving due to rising new car prices and durable vehicles. Certified Pre-Owned (CPO) programs are popular for their rigorous inspections. The internet has revolutionized the market, enabling online research and purchases. SUVs and trucks dominate, but interest in electric and hybrid vehicles is growing. An ageing vehicle fleet provides well-maintained options for budget-conscious buyers. Financing for used cars is more accessible, and awareness of vehicle history and maintenance records is increasing. Environmental concerns drive interest in eco-friendly used vehicles. Quality used cars offer reliable, budget-friendly transportation after the initial depreciation, with rigorous inspections ensuring safety and performance. A wide variety of options makes it easy to find a suitable choice, making standard used cars an economical alternative for buyers. Here at Auto Expo Houston you will get the quality vehicle you dream off and the piece of mind you acquire. So join us to be part of our Auto Expo Houston family.