Best Used Car Dealerships in Houston
Posted Sunday, Sep 03, 2023
The Greatest Way To Select The Best Used Car Dealerships in Houston
To meet basic needs like suitable transit and use in an emergency, a car has grown to be a significant aspect of modern life. A car serves as both our transportation and our travel. It goes without saying that buying a car is not a simple undertaking. Since purchasing a car is a significant commitment, there are numerous factors to take into account when choosing the best used car dealerships in Houston. The market for used cars is expanding today, and a lot of new businesses are entering the industry. It is challenging for buyers to identify the Best used car dealer due to the different markets. Here, you will learn how to locate a dealer the right way.
If we are talking about the ideal used car dealer, customers first think of Auto Expo Houston. Also, if you look at the list of used car dealers, you will see our name at the top. We are the best used car dealerships in Houston, especially if you're seeking a used car lot with high-quality and certified autos.
An extensive Inventory:
Make sure the dealer you select has a wide range of stock. If you have a variety of choices, you'll feel more secure and be able to locate the ideal car that fits both your preferences and your budget. Ask your dealer to show you the vehicle that fits your needs in terms of kind, price, color, and other factors when you visit a showroom. By doing this, you can be certain that the dealer is legitimate and that the cash car lots in Houston being offered are of high quality.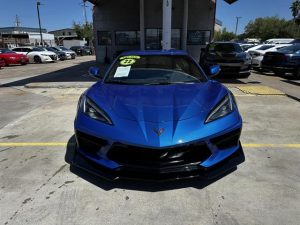 2022 CHEVROLET CORVETTE STINGRAY COUPE 2D
Auto Expo Houston is one of the top car dealerships near me when it comes to offering a wide range of inventory.  In our inventory, we have several hundred vehicles, all of which are different brands and types.
Service Record of cars:
There are a lot of things to keep in mind if you're trying to decide how to choose a car dealership or how to buy a car from one. The history of a car gives you information about the state of the car's health when choosing a reliable used car dealership near me. When looking for a preowned vehicle, be sure the dealer you select provides the car's complete service history. Although, if you are well-versed in the automobile's system, you can inspect a car on your own to learn more about it.
Clean-Title Non-Accident Cars:
You must verify that the cars offered by the used auto dealer have a non-accident history when you look for them. Make sure they have a solid title before granting a deal. Buying a used car that has been certified is essential.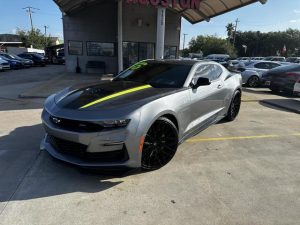 2020 CHEVROLET CAMARO SS COUPE 2D
You can ask your dealer to provide you with the original paperwork, such as the registration certificate and the history of the car's insurance, to protect yourself from any form of scam or fraud. Make sure the dealer you select offers you all the necessary paperwork.  By selecting Auto Expo Houston, one of the best used car dealerships in Houston, you guard against falling victim to traps and swindles. We inform our customers of every detail regarding the vehicle before finalizing any deals to help them make wise choices.
Authentic and Affordable Prices:
A significant financial decision, like purchasing a new car, requires some of your funds. When considering such a significant purchase, you should work with a dealership that offers you fair pricing on a used car. When you find the correct used car dealerships near me no credit, they frequently cut out the middleman to provide their customers with a significant price advantage.
When it comes to a car, it's important to look at the interior, the engine, and any potential resale value. You should also be sure to compare prices offered by different dealers and consider a number of factors, such as current and historical market trends, the condition of the car you intend to buy, and the supply and demand of the model you choose.  You can select the ideal used car dealerships no credit check near me and obtain a better offer through this method.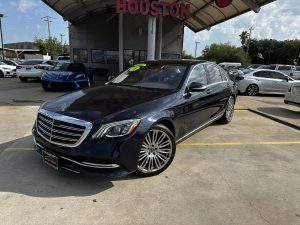 2019 MERCEDES-BENZ S-CLASS S 450 SEDAN 4D
Everyone wants to receive a greater return on their hard-earned cash investments. Auto Expo Houston is the best choice for you if you want to receive more value for your money. We provide a wide selection of cars at competitive prices, together with post-purchase services like maintenance and servicing, repairs, etc. We are renowned as the best used car dealerships in Houston and provide all makes and models of vehicles. 
Report on Car Inspection:
The same way that a car's mechanical and technical inspections reveal its condition, your medical exams will reveal your physical condition if you have a weak body.  When looking to buy a used car from a dealer, you should request a thorough and genuine inspection report of the car you are considering.
The current condition of the car is graded on a variety of factors in a standard car inspection report. This report provides information on everything from mechanical to electrical components, so you can make an honest and informed purchase. Make sure to evaluate a car on your own after receiving the inspection report. One of the best used car dealerships in Houston when it comes to licensed auto dealers. If you need a technician to inspect an automobile, we have a professional and experienced mechanic that can assist you. We also offer a comprehensive inspection report.